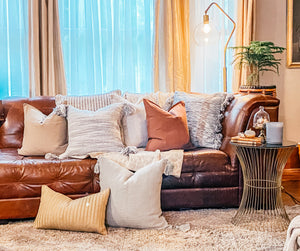 disCOVER your style
Maybe you know just what you're looking for. Maybe you need a bit of inspiration.
Shop the latest trends, find your favorite designer dupes, and mix and match our high quality pillow covers to create your insta-worthy look.
Need some ideas? Explore our gallery and find the perfect color and texture combinations to help inspire your next pillow palette.
Testimonials
"I just received the grey-tipped faux fur pillow cover and I really like it. It's very well made and looks so comfy and inviting on my chair. I'd definitely buy again!"





Laura S.
"I love my new fringed pillow case cover. Shipping was quick. These pillow cases are high quality and very durable. I love the neutral color because it will go perfect in any room. I can't wait to style my home with my new pillow!!"





Michelle
"Beautiful and well made! Love the texture on this one and how it chops well in the middle for styling. Arrived in a nice package and came quickly! Love the size too and how it's a more unique one."





Jenna
"Perfect neutral. This is a great brown/linen pillow cover for any styling. I used my own pillow insert and it works great! Love how it feels sturdy but also comfortable to rest an arm on. Great product!"





J.S.
"Modern boho look !! Love it!"





Helena